A Live Event in San Diego!
Great News! The New York Times indicates that California plans to lift all COVID-19 restrictions (except mask wearing) by the time we gather in San Diego this June.
Dear Presidents and Executive Directors,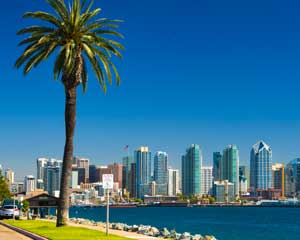 One of Citygate Network's most popular events is the annual CEO Summit. That's because it gives topmost leaders at missions and kindred ministries a chance to talk among themselves about new opportunities and insights. And it affords time to dialogue about cultural concerns and the most pressing issues they are facing. When we do a CEO Summit, we have this rule: What's said in the room stays in the room. That means no subject is off limits. And believe me, we have more subjects to talk about than ever these days.
This will be an in-person event. There will not be an online component. We dive into the issues in a classroom setting, and the communication is always quite candid. But some of the best discussion happens outside the room, and our venue—with water views and tall palms—will provide plenty of opportunities to walk (or sit) and talk.
Dates
We'll start in the afternoon on Tuesday, June 22, and go right up until lunch on Thursday, June 24. Three meals are included: Tuesday dinner, Wednesday lunch, and Wednesday dinner. Several breakfast options are located on-site or a short walk away.
The Venue
We'll be in California! Our CEO Summit location will be the uniquely situated Island Palms Hotel and Marina (a Best Western Plus property) on Shelter Island—a roughly one-mile stretch of land in the mouth of the San Diego Bay that is connected to the Point Loma neighborhood by a permanent causeway. Outside the front door is the bay, with great views of the San Diego skyline. Outside the back door is an extensive marina in front of the Point Loma hillside. All guest rooms include complimentary Wi-Fi and access to resort amenities like an inviting pool, tennis courts, and an exercise room. Walking, jogging, and biking paths run right past the place. SeaWorld, Old Town, Balboa Park, and the San Diego Zoo are all quite close.
Spouses and Families
San Diego in the summer is a combination that's sure to interest families. The room rate at the Island Palms Hotel and Marina is the same, regardless of occupancy (within reason). The kids will love the on-site pool and everything else San Diego has to offer. (Think San Diego Zoo!) Spouses that do not serve as a full-time mission/ministry employee can take advantage of our Spouse Rate that includes Tuesday and Wednesday dinners and observation privileges in the sessions, space permitting. See the Spouse Rate info on the registration form.
The Program
As always, the CEO Summit will be participant driven. More time will be given to discussion than to presentation. In other words, Citygate Network brings in thought leaders, management coaches, theologians, and subject-matter experts who start all of our conversations, but most of our classroom time is for participant feedback and Q&A.