Re-Stored
Why ministries should be leveraging the trend of thriving thrift
by Alison Phillips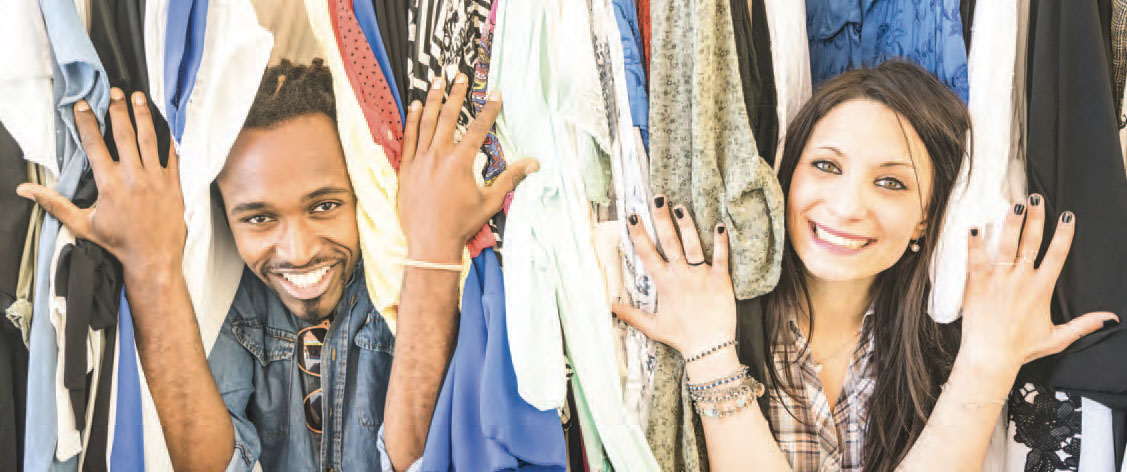 In our topsy-turvy world where businesses have slammed doors shut, shortages are leaving shelves empty, and shopping is losing its charm, one type of retail operation has every reason to thrive.
Many well-run thrift stores — including ones operating in connection with rescue missions and similar ministries — are flourishing. Recent world events have actually boosted their success, bringing in more donations, turning more people toward lower-priced goods, and making individuals more conscious of how purchasing used items is good for society and the environment.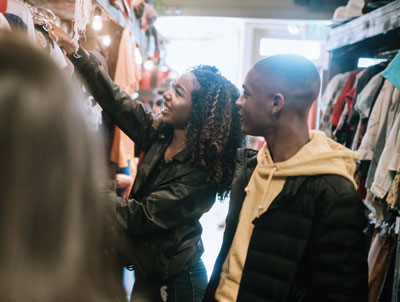 "Thrift is one of the few industries that, when managed well, thrived during the events of the past two years," said Steve Slack Jr., owner of SMCo Thrift and www.pickupmydonation.com. "Donations increased as more individuals cleaned out their houses. Those organizations that were able to capitalize on the increase in donations saw significant growth."
At the same time, as businesses struggled and people were laid off, many found buying new merchandise difficult.
According to the 2021 Resale Report published by thredUP, an online consignment and thrift store, 33 million people shopped secondhand clothing for the first time in 2020. The research also noted that attitudes shifted during the recent pandemic. Customers shopping for clothes care more than they did a couple years ago about saving money on apparel, avoiding waste, and purchasing quality, resaleable garments.
At the same time, YouTube, Pinterest, Instagram, and other popular social media outlets are inspiring people — especially those under 40 — to visit local thrift stores. For example, 51 percent of teens, who allocate eight percent of their shopping time to secondhand, have recently purchased used goods. Sixty-two percent have sold secondhand items, according to a fall 2021 survey of teens by Piper Sandler Companies.
And it's not just teenagers. Even big-name celebrities, including Julia Roberts, Zooey Deschanel, Helen Mirren, and Drew Barrymore, have been spotted sauntering through thrift shops.
Recent world events have actually boosted their success, bringing in more donations, turning more people toward lower-priced goods, and making individuals more conscious of how purchasing used items is good for society and the environment.
The thrift store has transcended from an unpleasant establishment with a negative stigma to a trendy place to shop for young people looking for creative outfits, unique items for their homes, and supplies for craft projects.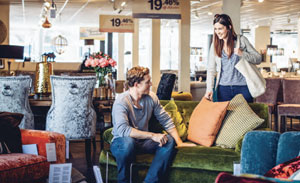 "Furniture, in particular, is great for upcycling," Steve said. "Items that may show some wear and tear can be refinished or completely reimagined as a new piece of furniture altogether. The creativity and ingenuity associated with millennials and Gen Z are often showcased in these reimagined furniture pieces. And thrift stores provide the raw materials for these projects."
For many, a shopping experience in a thrift store is a hunt to discover an unusual treasure or an exciting deal. ThredUP's report indicated those who frequent thrift shops enjoy ones that offer good values (about 75 percent of customers), new arrivals (about 50 percent), and the fun and excitement of finding unique items (about 50 percent).
Additionally, thrifting millennials (in their 20s and 30s) and Gen Z (in their teens and early 20s) see their shopping choice as an opportunity to recycle, doing their part to keep at bay environmental damage and reduce waste. The thredUP report found that 45 percent of these generations won't buy from what they consider non-sustainable brands and retailers. And Gen Z is 33 percent more likely than people in the boomer generation to have resold clothing.
Thrift stores have moved from an unpleasant establishment with a negative stigma to a trendy place to shop for young people looking for creative outfits, unique items for their homes, and supplies for craft projects.
Further, these stores provide a more intriguing alternative to browsing online.
"As online shopping continues to grow, thrift stores are still the go-to place for name brands and the 'touch' experience. Everyone is interested in what's new and exciting in your store," said Rusty Parrish, president of www.thriftstorespecialist.com, a consulting organization launched in 2007 to assist ministry-driven thrift stores to "perform at the next level of performance and profitability."
About half of Citygate Network member organizations operate or are affiliated with a thrift store. Whether a ministry is considering launching a store or seeking to strengthen its operations with smart techniques and helpful technology, today's social and economic climates present ideal conditions for success.
"We're providing a pathway for a community member to practice their call to be a provider, their call to be a participant. They like that they are not just getting a good deal on clothing but also giving back to their neighborhood." —Bryan Lewis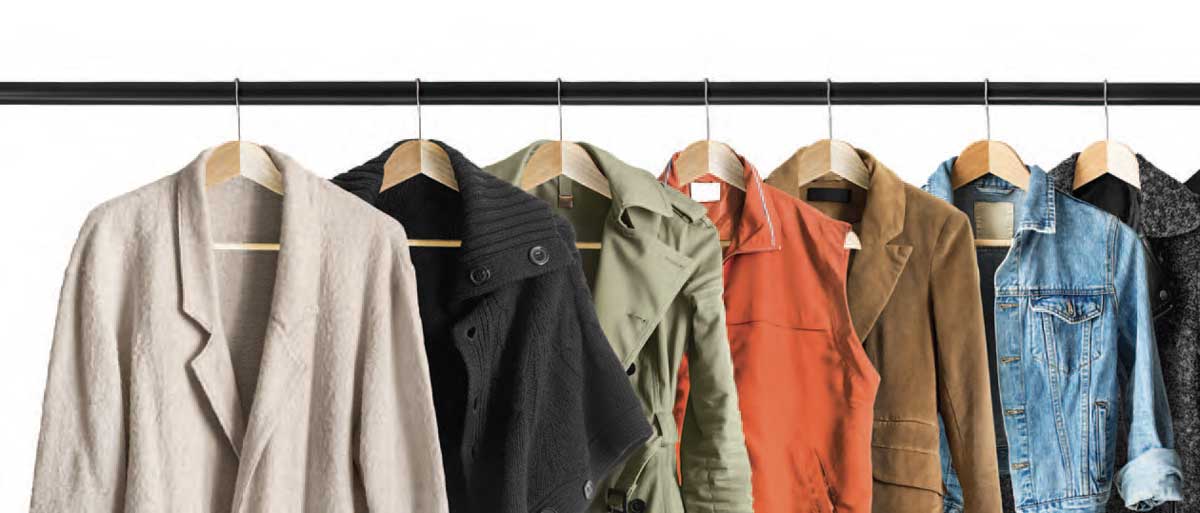 Blessing others
Running a thrift store can have multiple benefits for a mission. At Downtown Rescue Mission in Huntsville, Alabama, seven thrift stores in neighboring communities help the ministry come to the aid of homeless individuals and families with food, clothing, shelter, and Christian education.
Sales at Union Gospel Mission's four stores in Washington and Idaho support sheltering people while also helping people with poor employment history gain positive work experience.
Hope House in Bowling Green, Kentucky, launched its Community Store after a survey of neighborhood needs.
"We've seen our thrift store not just serve our organization … but also serve the community," said Executive Director Bryan Lewis.
In the early years after the ministry opened its doors in 2009, Bryan said the staff was focused on meeting immediate needs through services such as a food pantry and clothes closet. But as leaders began to recognize the importance of helping clients move toward healthy relationships — with God, others, and self — rather than merely presenting handouts to avert crises, they knew something needed to change.
"We realized a lot of our approaches were creating more dependency than opportunities for empowerment and development," Bryan said. "We knew what we wanted to do. We just didn't know how to get there."
The team at Hope House decided to make some significant changes based on their own research and on discussions with other agencies and neighbors.
"We want the ability to provide for our family," Bryan remembered the neighbors saying. "We want the ability to go to a store in our neighborhood and pay for goods."
The survey of area residents highlighted that asking for handouts felt shameful for many. People became discouraged and mentally and emotionally exhausted. Founded in 2014, today the Community Store is a place where community members with financial hardships can find not only reasonably priced, quality goods but also dignity and the chance to start making meaningful changes in their lives.
"We're providing a pathway for a community member to practice their call to be a provider, their call to be a participant," Bryan said. "They like that they are not just getting a good deal on clothing but also giving back to their neighborhood."
An added benefit is that an individual who completed the Jobs for Life program at Hope House could take on a position at the Community Store. Ideally, Bryan said, the role would be a stepping stone to a future — a better job where he or she could serve his or her city and family. At least two graduates were promoted from the thrift store to more responsible positions at Hope House.
Finding the best place
Missions interested in setting up retail operations need to establish whether the store should be a profit center for the organization or more of an extension of the ministry, said Steve of SMCo. The business he and his father founded in 2012 assists gospel-based organizations with thrift stores through conferences, software, and services, including coaching and full management.
"While we certainly want to reveal Christ in our interactions with everyone involved, we are proponents of maximizing the value of the donations that are entrusted to us in order to provide the maximum funding for the nonprofit," he said. "The nonprofit is the expert in distributing resources. Let the thrift operation be the expert in generating funds."
Next, ministries should focus on the importance of the store's place, people, process, and product, Steve said.
"Oftentimes thrift stores are opened in areas where there are people in need, or where there is inexpensive real estate," Steve said. "These are two of the biggest mistakes thrift operators make."
Instead, he advised that a secondhand store be in an area where the best donations are likely to be received at the greatest convenience to donors. Most shoppers are treasure hunters — not necessarily at thrift stores because of their financial need — and will seek out the best thrift stores, wherever they are.
Other things to consider when selecting a location include visibility, traffic, proximity to other shopping, and ease of ingress and egress, said Rusty, who has more than three decades of experience with thrift-store operation and consulting.
Hiring quality people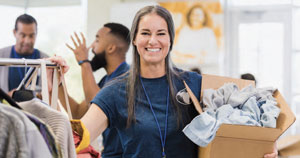 Staff is also a critical consideration for a mission thrift store. "People are your number-one asset, and, regardless of position, they are all extremely important, from the site manager [to the] production worker, truck driver, and janitor," Rusty said. "Be prepared to work hard, continually train and support your staff, and strive for and expect excellence from everyone, including yourself."
Steve said that key positions include cashiers, the individual doing pricing, and the person greeting donors.
"Managers choosing the right team members is the most important advice we could give," Steve said. "Not having the right team can throw everything off. While we understand staffing is a challenge across the country right now, we have a unique opportunity to offer individuals more than a job. If we communicate the impact that our day-to-day work is having for the missions we support, we can recruit and maintain a better team."
"Oftentimes thrift stores are opened in areas where there are people in need, or where there is inexpensive real estate. These are two of the biggest mistakes thrift operators make." —Steve Slack Jr.
As managers build their teams, delegation is an important skill for them to possess.
"Managers have a million things to do and must learn how to prioritize and delegate, inspecting to ensure proper execution, and working with their people to ensure everyone is focused on the overall goal," Rusty said.
At Hope House's Community Store, Bryan has found that it's critical to ensure employees are skilled at equipping and empowering the volunteers to serve the needs of the store and shoppers. Volunteers at Rockford Rescue Mission in Illinois, for example, sort and process donations, work with merchandising, and assist customers at its thrift store.
A donation coordinator is also a strong asset, Bryan has learned, "to be the best steward of that donation given."
Pursuing the process
With a strong team in place, Steve said that making sure everyone understands the store process and keeps everything moving in the right direction will help set the retail establishment on the path to success.
"[A critical first step] is an outlined system of operations from the start, which can align for future expansions," Rusty said. "You always need to be aware of where you're at, where you're going, and how to get there."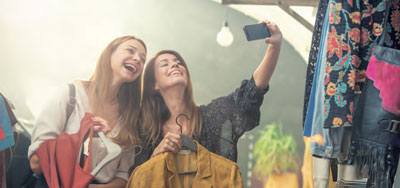 Valuable data to collect includes sales, number of customers, types of items sold, donations collected, and the average price per piece of sold items. Technology can be a useful tool to track information to help positively direct the operation for the future.
One example is the SMCo-designed ThriftTrac, a program that all employees at a ministry would use at the end of the work day. Hope House is looking into using ThriftTrac to increase its impact with a better grasp on data.
"The data inputted by dozens, if not hundreds, of employees rolls up to a dashboard that everyone, from frontline associates to executive leadership, can look at on a daily basis," Steve said. "You can't manage what you don't measure."
OnTrac, also created by SMCo, is a point-of-sale system that feeds data into ThriftTrac.
"The dashboards created inside the system give us real-time data that allow us to make decisions that affect the success of the stores in real-time," Steve said.
Rusty advised thrift-store managers to ensure that technology doesn't obscure a store's goals, noting he's worked with some stores that have collected too much data.
"Technology these days can become absolutely overwhelming if you're not careful," he said. "Our number-one goal is helping organizations make more profit, as dollars staying in the bank is really what counts. Money in the bank to drive the ministry — that's what we're after."
Gathering donations
Finding an excellent source for quality donations is another essential element to launching a thrift store.
"Donations are the absolute lifeblood of a thrift store," Steve said. "[It's important to] start your donation collections system."
Hope House has donations bins and the option of dropping used goods at the store. Spokane-based Union Gospel Mission welcomes donations at its main ministry location as well as at any of its four stores, and offers a pickup service.
To help ensure quality donations, Steve recommends focusing on convenience for the donor.
"We see clothing donation bins all over the country, whether supporting for-profit or nonprofit," he said. "The reason these work is because they are inexpensive and convenient."
Hope Gospel Mission based in Eau Claire, Wisconsin, offers donors to its area stores — three are traditional thrift operations and one sells used building supplies — the option of calling or going online to schedule a pickup.
Steve's www.pickupmydonation.com, launched in 2011, helps those who'd like to give connect with places that could use their secondhand items. Organizations such as Alabama's Downtown Rescue Mission link to the site, where a donor enters a zip code and information about the type and condition of the donation. Then, the individual is connected with an organization that will pick it up.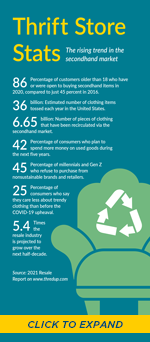 "We provide an easy solution for donors that drives qualified referrals to thrift stores doing amazing work across the country," Steve said. "We have seen tremendous growth in donations by making the process more convenient for donors."
He also suggests installing an attended donation center in the most convenient location available, preferably near homes of wealthy people. Consider using a former fast-food drive-through, gas station, or laundromat, he said.
In Rockford, Illinois, the Rockford Rescue Mission has nearly 20,000 cars come through its donation drive-through each year. Not only can staff fully stock the ministry's thrift store, but also the mission is able to send excess clothing to those in need around the world.
Large numbers of donations may also prompt ministries to consider expansion.
"Unfortunately, there were many thrift stores that felt overwhelmed and stopped taking donations [during the increase in the last two years]," Steve said. "It has always been our goal to grow donations and let the increase drive growth in our current stores and then expand to additional locations."
Hope House moved its thrift-store operation in Bowling Green from a 3,000-square-foot building to an approximately 6,000-square-foot location before opening its current spot, a 10,000-square-foot storefront, in June of 2020. The Community Store has had increasing success with plenty of donations and shoppers, Bryan said.
While the majority of Hope House's donations come from individual donors in the community, leaders have also developed relationships with local companies, including one that donates clothing overages. Other thrift stores purchase items.
"We have relationships with several preferred vendors offering new items at wholesale and below pricing structures," Rusty said. "We also know who not to deal with, which can be important as well."
Pricing tips
To sell the items they acquire, some mission thrift stores opt for standard pricing (such as selling all men's T-shirts for the same amount) while others label items with prices based on brand and/or quality. Furniture is usually individually priced.
"Pricing items to their value, rather than pricing every shirt exactly the same, recognizes the generosity of the donor," Steve said. "This principle of stewardship allows more money to flow to the nonprofit rather than to the pockets of resellers."
Staff at Hope House's store work to price used items similarly to area stores and typically sell donated new items for about 75 percent off of retail prices, keeping in mind the needs of the neighbors. Bryan said the leaders are working on refining their pricing strategy with the help of SMCo.
Steve said having two managers — a retail manager and a processing manager — can help in the pricing process.
"Our processing managers are focused on maximizing the value of each item, considering the brand, age, and quality of each item," Steve said. "There is a price guide that we use as a training point, but we try to price it based on what it's worth.
Keeping it fresh
Ministry thrift stores also make it a priority to maintain fresh and attractive shopping areas.
"When a person comes and shops, we don't want them sorting through raggedy T-shirts," Bryan said. "We want them to have a sense of dignity. What they're looking through is quality."
This means turning down or tossing donations that are useless for resale (such as box TVs), carry bedbugs (old mattresses), or are damaged (such as clothing with holes), musty, laden with mildew, or soiled, Bryan said. The Community Store staff do a smell test if in doubt to make sure items are appealing and saleable.
In addition to weeding out inappropriate items, thrift stores also take steps to stay organized.
"Merchandising is challenging in thrift since every item is unique," Steve said. "There is no guide provided that shows how to display one-of-a-kind items in your store. We try to focus on themed endcaps and maintaining clean, well-organized sections that are appealing to shoppers."
Rusty recommends rotating products on a consistent schedule, putting fresh products on the shelves, organizing the placement of items, making any possible improvements to displays, and ensuring a customer-friendly environment.
"Keeping new inventory circulating is by far the most important [to keep goods appealing]," Steve said. "We've entered stores that appear full at first glance but are filled with stale merchandise. A returning customer quickly realizes when there is little to no new product available for purchase."
At Hope House's Community Store, staff frequently move items around or display them differently to keep the shopping experience fresh. For example, they create baskets of items and sell them together. They also regularly raffle a basket filled with unique goods.
Regular use of social media will help attract customers too. Posting pictures of unique items, for example, is a quick and necessary way to appeal to the younger demographic, Rusty said.
While setting up and running a thrift store is no small task, the rewards for a rescue mission are great.
"Don't be paralyzed by the risks of opening a thrift store, but rather be focused on the potential successes for your mission and your neighbors," Bryan said.

Alison, a big fan of thrift-store shopping, lives in West Texas with her husband, two sons, and two daughters. Formerly, she lived in Colorado and edited publications for Citygate Network and for the Christian Camp and Conference Association. Alison holds a bachelor of science degree in journalism.
---
To read more articles like this from our bi-monthly members-only magazine Instigate email Aly Zadurowicz about membership today.
This article originally appeared in the January/February issue of INSTIGATE magazine. © Citygate Network, All rights reserved. Please email editor@citygatenetwork.org for additional permissions.