Executive Leadership
The George Washington Hotel, Winchester, Virginia
July 16, 2021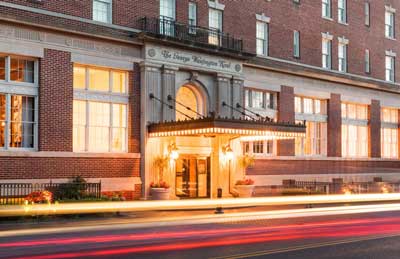 Sponsored by Winchester Rescue Mission, this is an opportunity for those in our district serving in executive leadership* to come away together for a time of refreshing and discussion about topics that relate to you most. This second Bluegrass District Huddle will be meeting at The George Washington Hotel, located at 103 East Piccadilly St., Winchester, Virginia 22601. Come meet face-to-face with colleagues from member missions in our district for a day of inspiration and networking!
We will have breakfast and lunch together (included in your registration), along with featured speakers Dr. Robert Marbut, Dan Rogers, and Pastor Gregg Wigfield, and roundtable discussions. Don't miss this opportunity to connect together on important topics.
There will be an optional dinner gathering at the end of our time.
Hope to see you there!
*Directors and COO's are also welcome!
---
Schedule
Tentative Schedule:
8:00 a.m. - Breakfast
8:30 a.m. - Welcome/Time of Worship: Brandan Thomas, Director of Winchester Rescue Mission
9:00 a.m. - Speaker: Dr. Robert Marbut, former executive director of the U.S. Interagency Council on Homelessness, "The Future of Homelessness"
10:15 a.m. - Break
10:30 a.m. - Roundtable Discussion with Dr. Robert Marbut
11:45 a.m. - Lunch
12:30 p.m. - Speaker: Dan Rogers, former executive director at Cherry Street Rescue Mission
1:30 p.m. - Break
1:45 p.m. - Roundtable Discussion with Michael Martin, Dan Rogers, and Ryan Duerk
3:00 p.m. - Break
3:15 p.m. - Speaker: Gregg Wigfield, Pastor at Destiny Church and area leader for Liberty Church Planting Network
4:00 p.m. - Open Forum CEO Discussions
5:30 p.m. - Optional Dinner Gathering (location tbd)
Lodging (Optional)
The George Washington Hotel ($99/night): (540) 431-2498
A block of rooms will be reserved for this event.
Simply inform that you are with the Winchester Rescue Mission event.
Registration Information
Registration Fee: $30
Includes program for the day, breakfast, lunch and snacks.
Registration has been extended to 5p.m. on July 14, so be sure to register soon!
Location Information
Parking on site
Contact Vicki Culbreth, Development Director, (704) 900-9564 for further site information or assistance.
Cancellation Policy
You may cancel by Friday, July 9, 2021, to receive a full refund.