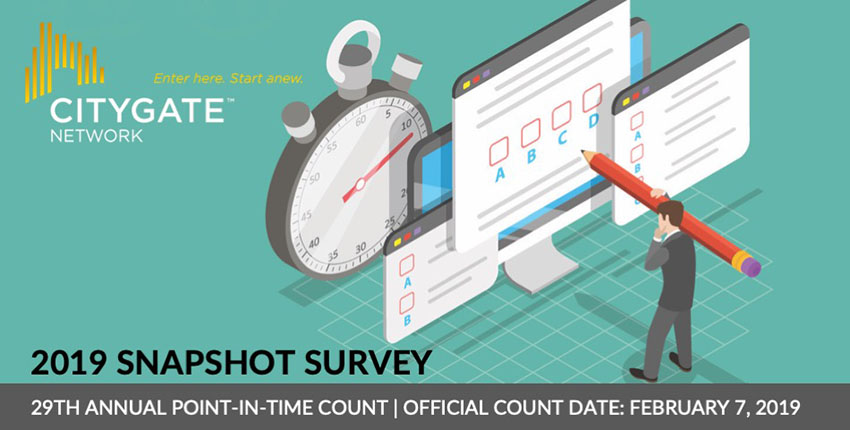 Citygate Network will conduct its annual Snapshot Survey in February. The official count day is Thursday, February 7, 2019 (with member missions having flexibility to conduct the survey any single day February 1–21).

Each year, Citygate Network members survey thousands of individuals who are utilizing emergency shelter, supportive services, addiction recovery, and residential programs. The data collected through the Snapshot Survey provides local and national media with a demographic snapshot of homelessness and poverty in communities across North America.
How members can participate in the Snapshot Survey:
1. Select a date. The official survey date is Thursday, February 7. However, you may complete the survey on the one day most convenient for your ministry between February 1–21.

2. Download and print Snapshot Survey forms. Please download all survey forms located in the table below. Print enough copies of the Facilitator's Form to collect data from individuals requesting service at all mission locations and check-in areas. The Final Tally Form will help you compile your results and complete the online submission process.
Survey Overview

Survey User Guide




Facilitator's Form




Final Tally Form




Survey Overview shares more in-depth about the purpose and value of the survey. When and how to collect the data.


The User Guide contains instructions that will help you to complete the survey. It provides insight into specific questions in the survey.


Print enough copies of the Facilitator's Form to collect data from individuals at all mission locations and check-in areas.


Use the Final Tally form to compile your survey results (totaling numbers from all Facilitator's Forms) before submitting them online. 




Download:

PDF

Download: PDF
Download: PDF

Download: PDF


3. Conduct the survey. If possible, survey everyone using mission-offered services, including your program participants and those coming for a meal, the day room, clothing, chapel service, etc. If that's not practical, collect as many responses as you can.

4. Submit your data. The deadline to submit your Snapshot Survey results is Friday, March 1. Just press the SUBMIT button below, or go to https://www.surveymonkey.com/r/CitygateSnapshot19.
5. Share your results. In return for your participation, we will send you a report of your mission's survey results and the association-wide comparison along with a press release template that can be used to share your mission's findings with local media.


Questions: Contact Brad Lewis, director of communications, at blewis@citygatenetwork.org or (719) 266-8300, ext 103.