Project Converts Containers To Housing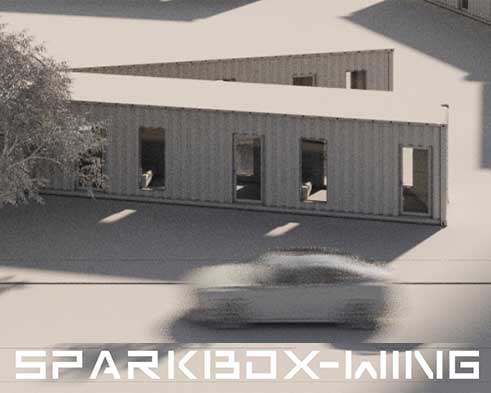 In Phoenix, Arizona, an exciting and forward-thinking project known as X-Wing is revolutionizing the concept of housing by converting shipping containers into shipping containers into air-conditioned housing. Initiated with a vision to provide mobile housing solutions, the project aims to sleep up to 20 people in the current phase, with ambitious plans to accommodate 900 more beds by 2024.
The creative force behind X-Wing is a design firm called Steel + Spark, which received a $2.6 million award from the city for this initiative. Their innovative approach joins four shipping containers into an 'X' shape, transforming them into livable spaces. Each container is carefully divided into five separate rooms, providing residents with necessities like air-conditioning, heating, a bed, desk, and cubby. Although these units lack kitchens or bathrooms, their strategic placement near existing facilities compensates for these omissions.
The practicality and ingenuity of this housing solution have caught the attention of prominent organizations. The U.S. Department of Housing and Urban Development recognized X-Wing's potential, extending an invitation to Steel + Spark to display their Sparkbox ADA accessible model at the National Mall's Innovative Housing Showcase. This special model, designed with accessibility in mind, further exhibits the project's commitment to inclusivity.
Following the showcase, Steel + Spark's innovative design was donated to a local nonprofit, opening doors to transitional housing and underscoring the model's versatility and social impact.
The X-Wing project is more than a mere architectural feat; it's a symbol of creative urban planning and social responsibility. By repurposing shipping containers, it not only provides unique living spaces but also promotes sustainability and optimal use of resources. The success of X-Wing could pave the way for similar initiatives in other cities, changing the landscape of urban housing and offering practical solutions to housing challenges in the modern world.
---
The 300+ organizations in Citygate Network membership seek to move people in desperate situations and destitute conditions (i.e., hungry, homeless, abused, and addicted) from human suffering to human flourishing through the process of gospel-powered life transformation. If you or someone you love is in need of Christ-centered compassion and care, please visit our member locator page today to find a mission near you.