Rallying Around Maui Rescue Mission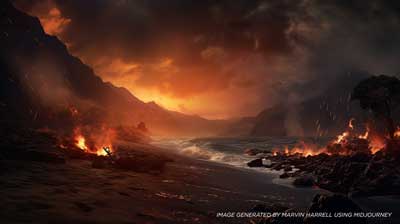 With the devastation that has come to the island of Maui, Hawaii, many of our Citygate Network members have inquired about the best way to help. This demonstrates the strength of living in community and reflects the compassionate hearts within the network.
Maui Rescue Mission (Maui, Hawaii) is a mobile mission that provides showers, laundry, bathroom facilities, first aid, and hygiene items. Our most recent report from Brian Nelson, mission co-founder and board chair at Maui Rescue Mission, shares this information:
The mission's trailer is in the middle of the island so they are okay and have been down at the harbor offering showers and laundry service, as well as clothing, to those now finding themselves homeless, or without power or water. Many fled with only flip flops on their feet. The biggest need is for funds to hire more people to help expand their services to those stranded, displaced, or otherwise in need. The current focus will be to stabilize individuals and families in what was already a housing crisis.
This personalized video comes from a CNN interview with Lauren Henrie, the mission's development and communication coordinator.
Click here if you would like to support the effort of Maui Rescue Mission in the wake of the overwhelming destruction.
Your prayers and support are needed during this time of crisis response as many work to understand the extent of this tragedy and also those who will need help as they recover in its aftermath. As Brian Nelson has communicated: "Right now, the best support is to give to nonprofits on the island."
---
The 300+ organizations in Citygate Network membership seek to move people in desperate situations and destitute conditions (i.e., hungry, homeless, abused, and addicted) from human suffering to human flourishing through the process of gospel-powered life transformation. If you or someone you love is in need of Christ-centered compassion and care, please visit our member locator page today to find a mission near you.