A fast and economical solution for transitional housing
by Ken Craft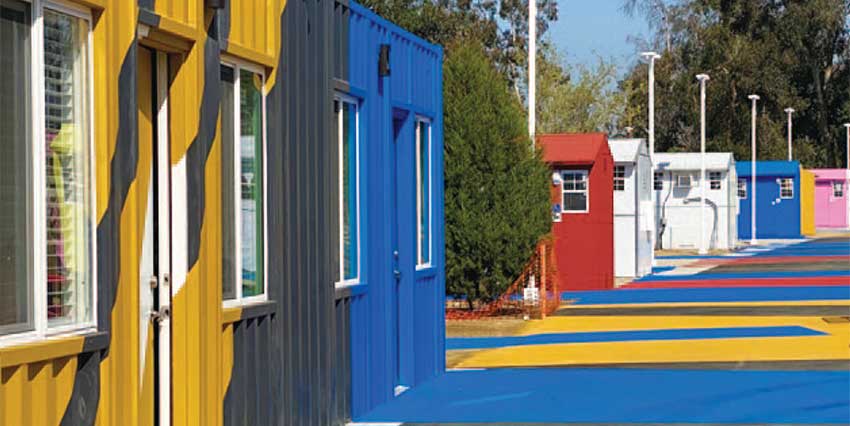 In 2016, Los Angeles voters approved Proposition HHH, a historic bond measure that would raise $1.2 billion to create 10,000 units of affordable and supportive housing for people who are unhoused. City residents taxed themselves, with the hope of getting the ever.increasing homelessness crisis under control. It was not until January 2020, more than three years later, that the first supportive housing unit funded by the HHH bond measure was opened.
While there were a number of other projects in the pipeline for development, the sad reality was that once again the city would not be able to build enough permanent housing fast enough. Meanwhile, homelessness continued to increase by double digits year over year.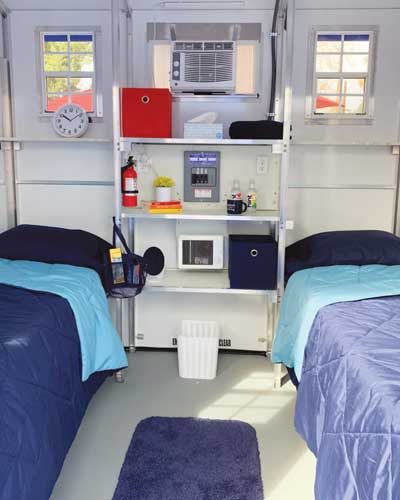 In April 2018, LA Mayor Eric Garcetti and the City Council declared an emergency shelter crisis and took advantage of a new state law that enables cities to construct bridge housing—faster than ever before—on any land owned or leased by the city. Additionally, it allowed homeless services providers to build shelters in expanded zoning around the city.
Historically, service providers could only build a shelter on commercially zoned land or property, with less than 30 beds, unless a conditional use permit was obtained. The process of obtaining a conditional use permit required a public hearing and notification to local neighbors, which was a costly endeavor and normally met with fervent resistance.
In partnership with the city, Hope of the Valley Rescue Mission immediately began looking for properties that met the new criteria. We leased a 15,000-square-foot warehouse where—in partnership with the city— we opened an 85-bed, congregant, individual-cubicle-style shelter in North Hollywood. Thirty days later we opened a similar 100-bed, congregant shelter in Van Nuys.
As good as the congregant bridge housing sites were, they still required significant time to build. Even when it was expedited, inception to completion took well over 12 months. We needed a faster response to the escalating humanitarian crisis of homelessness in Los Angeles.
Making it possible
Like many others, I had been intrigued by the prospect of constructing tiny homes that would be affordable, flexible, and scalable. Prior to my introduction to Pallet Shelter, I was working with the architectural, engineering, and design department at the University of Southern California (USC), trying to come up with a tiny home concept that could be rapidly deployed.
We built a prototype, but due to the stackable nature, it would require fire sprinklers, was very heavy, and made the price point too high.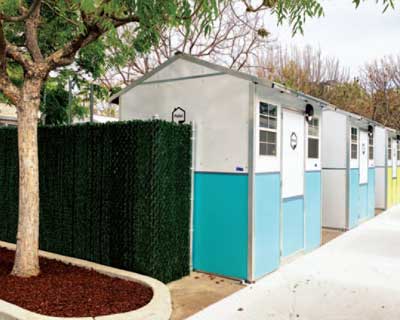 One of the local councilmen's chief of staff knew I was working with USC on the tiny home concept and asked me if I had seen the Pallet Shelter units. Unfortunately, being so engrossed in my own project, I was not aware of Pallet Shelter's innovation. After viewing their 64-square-foot, tiny home units, I realized that they had overcome the excessive weight concerns by using lightweight fiberglass, and they were able to mass-produce the tiny homes.
In 2019, there were only a few tiny home communities in the state of California. A local city councilman asked me if Hope of the Valley would be the service provider if the city was able to build the first tiny home community in his district. I was thrilled at the offer and said yes. In quarter four of 2019, construction of the first tiny home community in LA was underway on Chandler Boulevard in North Hollywood. It was a 39-unit, 75-bed complex built on city-owned Recreation and Parks land.
Welcome home
In February 2021 the Chandler Tiny Home Community was officially opened. The criteria for entrance was being homeless within a three-mile radius of the site. Local outreach and engagement teams would perform a basic assessment in the field, and after determining eligibility, they would transport the client to the tiny home site. When entering the tiny home village, the new resident was welcomed with love and support and instructed on the rules and expectations of the site.
Individuals who had been homeless and living on the streets for years were overwhelmed as they entered their new tiny homes. Each unit has an air conditioner and heater. There are four windows, two beds, electrical outlets, shelving, and storage under each bed.
Most importantly, there's a front door that locks. The locking door is a big deal, especially to women who experienced sexual violence and trauma while living on the streets. The thought of having a place to call home that was safe and secure moved most to tears.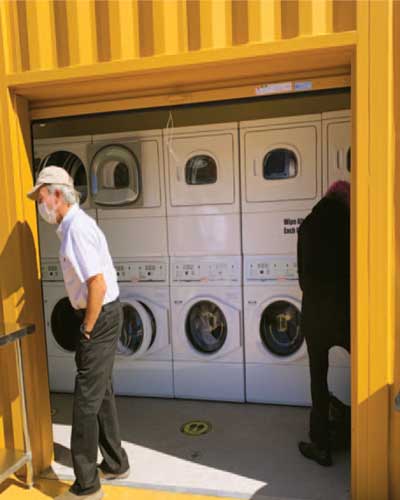 The tiny home community also features hygiene trailers with showers, toilets, and sinks. Washers and dryers are available at no cost. Residents have an outdoor communal dining area and a dog run. Security guards round the clock, monitors, and an extensive video surveillance system keep the community safe. Our central commissary prepares hot, nutritious meals which are delivered three times a day.
A new resident first meets with a case manager to work on obtaining essential documentation: birth certificate, state ID, and Social Security card. On-site residents have access to mental health services and substance abuse counseling, as well as job training/job placement, life-skills classes, and spiritual formation. The tiny homes are offered at no cost. As long as residents are working on their case plans with a housing navigator, they can stay in the tiny homes until we find more permanent housing, typically within four to six months.
In May 2021, Hope of the Valley was selected to open and operate the largest tiny home community in the state of California—a 103-unit, 200-bed site also located in North Hollywood. Once again, residents were overwhelmed with the prospect of leaving the streets and having their own tiny home units. Amazingly, the entire site was designed and constructed within 90 days! All 103 housing units were erected in one week. The infrastructure and site preparation took the majority of the time. Finally, a rapid-housing response was being deployed.
Inside each tiny home, residents sleep on a comfortable bed and enjoy temperature controls, the ability to charge their phones, onsite meals, hygiene care, and social services. Plus, the site looks beautiful and the residents love it.
Community response
Inevitably, the community pushed back on the units being too small, the cost of construction, and the notion that interim housing is not the solution and housing funds should be focused on permanent housing. Our response:
Size of units — Agreed, 64 square feet isn't very big, but it's a huge upgrade to someone who is living on the streets. Inside each tiny home, residents sleep on a comfortable bed and enjoy temperature controls, the ability to charge their phones, on-site meals, hygiene care, and social services. Plus, the site looks beautiful and the residents love it. One gentleman said, "I feel like I live in my own private gated community!"
Cost of construction — The Chandler site was expensive to build, as the city-owned piece of land had no utilities nearby. Bringing in electric, sewer, water, and gas was expensive but necessary. The overall cost per unit of the Chandler site, including all site improvements, was $78,000 per unit. The next site we opened only cost half as much because utilities were nearby. With the opening of each site, costs are going down.
Siphoning from permanent housing — I believe in a housing-first model when housing and supportive services are available. In Los Angeles, the average monthly cost of a one-bedroom apartment is $2,100—not exactly affordable, and inventory is virtually non-existent. The streets cannot be the waiting room for permanent housing. It's cruel and inhumane to tell people to live outside for an indeterminate amount of time while permanent housing is being built! Under any other emergency condition—where thousands of people are displaced and homeless—the National Guard would immediately be deployed and emergency housing would be provided. Homelessness requires an emergency response. When it comes to permanent housing and interim housing, it's not either/or; it's yes/and!
One of the ways that we attempted to preempt resistance from community members was inviting them to an open house where they could see firsthand what the site looked like and how it would operate. Eight hours a day for four days straight, our staff did nothing but give tours. Our goal was to demystify the tiny homes and encourage community participation. The process worked, and we turned opposers into supporters.
The overall response from both the housed and unhoused community has been amazing. Tiny home residents are grateful to have a roof over their heads and a place to call home. Last month alone we were able to move 24 people from interim housing to permanent housing. We remind residents that the tiny home is not their forever home; rather it's a stepping stone to get them back into permanent housing.
We remind residents that the tiny home is not their forever home; rather it's a stepping stone to get them back into permanent housing.
The difference it makes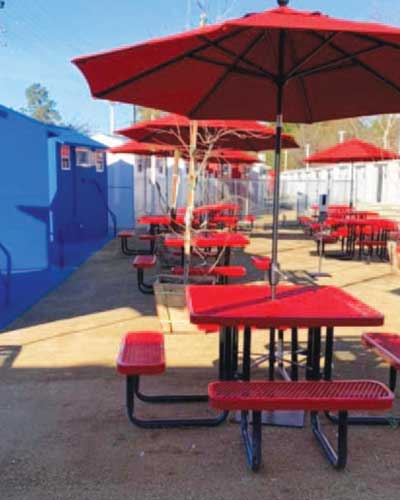 As I was leaving one of the tiny home sites last week, a resident stopped me, looked me in the eye, and thanked me. He told me that since living in the tiny home community, he felt human again. I asked him to explain. He told me that living on the streets and in an encampment was hard and made him feel invisible, unworthy, and unhuman. Not having access to showers or clean clothes, and always having to wear his backpack to protect his valuables, identified him as being homeless. He said nobody would look him in the eyes. Now, he takes a shower each day, has clean clothes, and doesn't need to take his backpack with him when leaving the community— he can leave it locked in his tiny home. Once again, he feels human, people look him in the eye, and he is confidently able to apply for jobs.
At the end of 2020, Hope of the Valley had nine shelters and 507 beds. At the end of 2021—thanks to a public-private partnership with the city of Los Angeles and Pallet Shelters, Hope of the Valley will have 15 shelters and more than 1,300 beds, with several other projects in the works. Along with providing the best social services possible, we are able to tangibly demonstrate God's love to those in need of His amazing grace.
---

Ken is president and CEO of Hope of the Valley Rescue Mission in Los Angeles. Previously, he served nearly 20 years as a pastor and six years with a Fortune 500 company. Ken uses a hands-on approach to caring for the complex needs of homeless and hungry people. He has been blessed with three children.
---
To read more articles like this from our bi-monthly members-only magazine Instigate email Aly Zadurowicz about membership today.
This article originally appeared in the July/August 2021 issue of INSTIGATE magazine. © Citygate Network, All rights reserved. Photos courtesy of Hope of the Valley Rescue Mission. Please email editor@citygatenetwork.org for additional permissions.