Illness And Homelessness
How health officials and service organizations can collaborate to address health crises
by Helen T. Goody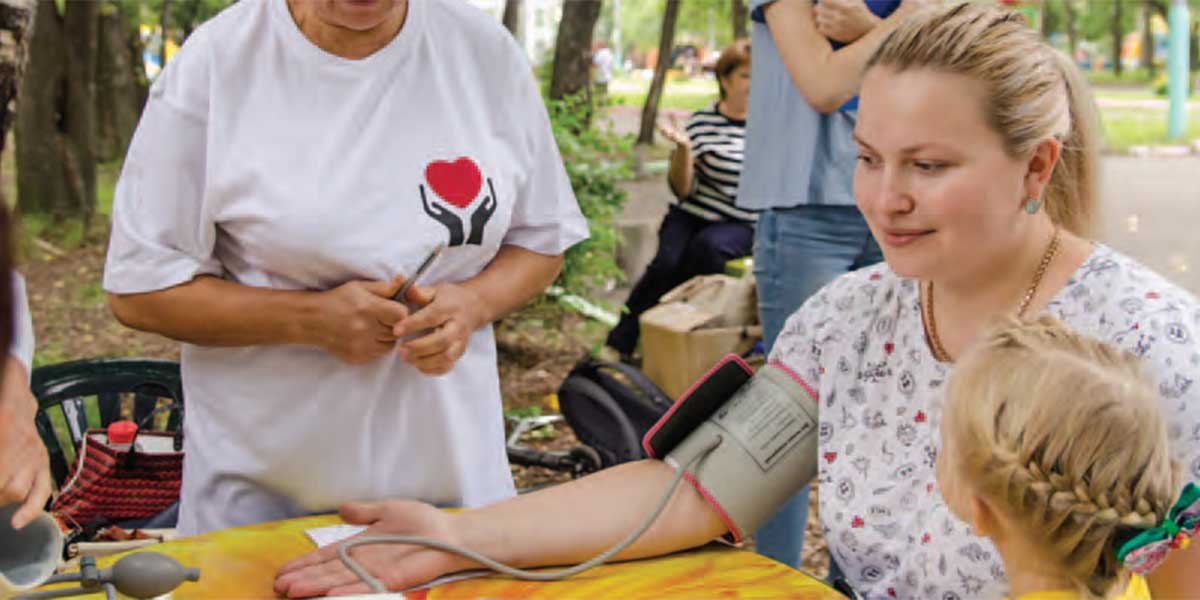 It started with just one case in 2009. One homeless person staying in an Atlanta metro area shelter was diagnosed with tuberculosis (TB)—an airborne infectious disease that affects the lungs. As far as infectious diseases go, TB is the world's biggest killer with about 1.6 million deaths worldwide in 2016, according to a 2018 World Health Organization report (WHO). But in the United States, a significant decline in TB cases overall (less than 10,000 cases per year) has given health officials hope that eliminating this preventable and curable disease is within reach.
Back in 2009, the Atlanta patient received immediate treatment and concern for outbreak subsided. But this particular strain proved to be drug-resistant; slowly and quietly it gained ground over a five-year period. Homeless shelter clients who lacked decent nutrition and regular health care were vulnerable, especially during harsh winter months that triggered overcrowding in shelters and longer, closer contact to those infected. TB can be latent for years before a victim shows signs of active bacteria. Unsafe, stressful, or unhealthy living conditions can further increase the risk that latent TB becomes active TB. Active cases slowly began to bubble up. By the end of 2014, Atlanta found itself in the middle of a deadly tuberculosis outbreak.
Tom Andrews, CEO of St. Joseph's Health System, was heading up MercyCare Atlanta, a federally qualified health care organization that serves primarily homeless patients. Andrews was part of a TB task force forming right around the same time the outbreak was gaining ground.
That task force included the state and area county Departments of Health, the Regional Commission on Homelessness, Emory Health Care and School of Medicine, all area shelters and homeless service providers, and the Centers for Disease Control and Prevention (CDC).
Andrews explains that during this time, organizations providing emergency shelter were challenged with a particularly cold winter, and no one wanted to turn away those in need. Clients had a grace period for TB testing, and staff and health officials simply weren't poised to conduct symptom screening. "There was no big fear…that people with active disease were walking into the homeless shelters," Andrews said.
In 2014, as cases of active TB grew, the TB task force was putting an aggressive response into action. "We stepped back and realized that there was not a really comprehensive mechanism that shelters could follow related to the prevention of disease," Andrews said. The TB task force was designed to help organizations act quickly and in collaboration with local health officials.
"One of the things we quickly concluded was that we needed to get TB testing more readily available by…offering testing right at the shelters," Andrews said. Testing became available at all area shelters for all residents. Those who were positive for TB received immediate care and treatment, and authorities made patient isolation facilities more available. Staff worked to create detailed documentation of infected victims and their interactions with other people.
Even so, it was three years before the outbreak was under control, and not before it had spread to four area shelters, killed three men, and infected dozens others. STAT news reported that the same strain cropped up in more than a dozen other states, accounting for more than half of all TB cases nationwide in 2013 and 2014.
Measles, which was officially declared eliminated from the U.S. in 2000, this year has seen the largest surge of cases nationwide since the 1990s. California Governor Gavin Newsom, in his 2019 stateofthestate speech, called the homeless crisis in his state a "public health crisis" of "medieval" diseases.
Meanwhile in Portland, Oregon, health officials worked to control a nasty outbreak of shigellosis, an intestinal disease that is spread by oral contact with fecal matter. From July 2015–May 2016, CDC officials tracked 103 cases—68 percent of which were among homeless people—that sent 46 people to the hospital.
The flare-ups of communicable diseases have continued. Just last year, San Diego officials finally declared they had ended a grueling two-year battle with Hepatitis A that spread among 600 people and killed 21. Most of those affected were homeless individuals living in tent cities or finding respite in temporary housing.
Measles, which was officially declared eliminated from the U.S. in 2000, this year has seen the largest surge of cases nationwide since the 1990s. California Governor Gavin Newsom, in his 2019 state-of-the-state speech, called the homeless crisis in his state a "public health crisis" of "medieval" diseases.
Other recent outbreaks:
Boston—5 cases (2 deaths) of meningococcal disease in 2016.
Los Angeles' skid row—167 cases of typhus in 2018.
Salt Lake City—Staph bacteria hospitalized 50 people in 2015.
Hennepin County, Minnesota—26 cases of measles in 2011.
Kane County, Illinois—TB outbreak infected 28 homeless shelter clients in 2011.
Anchorage—54 cases of Group A Strep, 85 percent of which were among the homeless population, in 2016–17.
Side-by-side, looking at infectious disease outbreaks seems apocalyptic. The CDC lists more than 100 notifiable infectious diseases in the United States, and the homeless population is finding itself knee-deep in the throes of many outbreaks. Yet most of these diseases are preventable and curable. And where there is outbreak, there is public panic, blame, and frustration.
Even so, infectious disease outbreaks have actually declined rapidly in recent decades. What's more, they are not the most fatal illnesses of homeless people in the United States. That honor goes to the chronic, non-communicable disease category.
What's clear is that being homeless increases the count and advancement of chronic conditions such as diabetes, asthma, HIV/AIDS, heart disease, and cancer; and those chronic conditions lead to far more deaths than do infectious diseases.
Chronic Killers
Identifying the most frequent cases of chronic illness and causes of death has proven difficult, but the National Center for Biotechnology Information (NCBI) reported on some studies that suggest certain illnesses are most prevalent among homeless people. What's clear is that being homeless increases the count and advancement of chronic conditions such as diabetes, asthma, HIV/AIDS, heart disease, and cancer; and those chronic conditions lead to far more deaths than do infectious diseases.
Not surprisingly, drug-related deaths among homeless individuals increase seven-fold over that among the general public, particularly among young adults. But substance abuse can also spur the chronic diseases—often neglected or untreated among homeless people—and lead to still more deaths. For homeless adults 45 years and older, cancer and heart disease are the perceived leading killer diseases.
Chronic illnesses are often left undiagnosed or untreated among the homeless population for many reasons. And when they are, they can lead to more complications. Diabetics, for example, can experience chronic, debilitating problems with teeth, eyes, blood circulation, and heart conditions if they're unable to care for themselves.
Where to store insulin (which needs refrigeration), hygiene risks, how to manage specific dietary needs, understanding what health services are available, even getting word out about regional outbreaks—simple and ordinary responsibilities for the general public—become complicated and dangerous for homeless people.
Health matters become even more complicated for homeless persons with HIV/AIDS. Though HIV/AIDS cases have declined dramatically since the 1980s and 1990s, it has recently taken hold among the homeless population, and still prevails among the deadliest.
Tom Andrews explains that HIV/AIDS is now viewed as a chronic disease, rather than communicable, and younger people in particular don't think they will get it. For some reason, treatment made readily available and free to homeless people is ignored because of stigmas surrounding this disease.
Seeking Better Strategies
With chronic illness being the larger cause of fatalities among homeless people, is it fair to question whether public panic about more contagious diseases is warranted? Sapna Bamrah Morris is the team lead for the Medical Consultation Team, Division of Tuberculosis Elimination at the CDC. Her team has focused on complications with homeless populations and worked with communities that have outbreaks.
Morris acknowledges that treating all diseases—communicable or noncommunicable— among homeless populations needs a better strategy because of the disproportionate impact that diseases have. And managing control is disproportionally more challenging.
For airborne diseases, finding everyone who has been in contact with a person diagnosed can be difficult to track. For chronic illnesses that require regular dosages of medications and health checks, displaced citizens may more easily neglect getting and taking prescriptions regularly or keeping up with health care appointments.
"The potential for outbreaks and chronic disease is enormous for the homeless, and it is not only happening in larger facilities in the largest communities," Morris said. "The key to getting problems under control is getting agencies together. The cities that have eliminated problems quickly are those who have come together to create policies and see that everyone uses them."
What to Do
Morris says that prevention does not have to be overwhelming for shelter directors and homeless organizations. "To me, it comes down to a few major things," she notes. "For communicable disease, it is (1) Having a point of contact in the health department and having open lines of communication; (2) Having infection control plans/policies for airborne diseases, and a plan for others (contact or fecal-oral transmission); and (3) Maintaining adequate access to hand hygiene/facilities."
For chronic diseases, Morris simply suggests making sure that shelter visitors have consistent, easy access to health care.
Emily Mosites of the CDC Arctic Investigations Program offers great advice for shelters that want to be more proactive with prevention of outbreaks. "In general, shelter directors will want to focus on infectious diseases that are very severe and may lead to death (like bacterial meningitis), or those infectious diseases that spread easily in the shelter and cause a lot of people to become sick (like flu)."
Today, Atlanta is doing its best to ensure that TB isn't making a comeback anytime soon. The city has the lowest level of TB cases in 30 years, according to the Atlanta Journal-Constitution. Shelters still conduct weekly screenings on site, shelter clients have cards that show their testing is up-to-date, and staff are alerted to look for signs of TB disease.
How to handle cases of disease, educating communities on severity, and tackling complications for those without secure housing or other health and economic concerns is a never-ending task for those on the front lines.
---
Helen lives in Loveland, Colorado, and has been a writer, editor, and online content developer for more than 20 years. She is a part of the Langham Partnership USA communications team, and works as a consultant on communications for nonprofits and ministries with Cedarstone Partners.
---
To read more articles like this from our bi-monthly members-only magazine Instigate email Sam Edwards about membership today.
This article originally appeared in the September-October 2019 issue of INSTIGATE magazine. © Citygate Network, All rights reserved. Please email editor@citygatenetwork.org for additional permissions.