Historically Rich Baltimore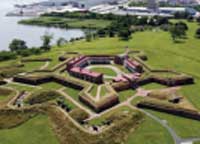 Located near the northernmost part of the expansive Chesapeake Bay, Baltimore was established in the early 1700s as a well-protected commodities port and shipbuilding site. Situated between the capital of the colonies (Philadelphia) and eventual capital of the country (Washington), "Charm City"—as it's often called—factored greatly in the establishment, growth, and development of the country. At Fort McHenry, Baltimore held strong during the War of 1812 and was the inspiration for Francis Scott Key's poem, "The Star-Spangled Banner." The city ultimately became a major East Coast seaport and was the terminus for many of the nation's railroads.
Baltimore deals with the same urban issues that have plagued so many North American cities over the past 70 years, but it's fighting hard to make a comeback. The revitalized Inner Harbor—where we'll be—is a vibrant sightseeing hub. It's rimmed with restaurants and museums, plus the National Aquarium, where you can see 20,000 sea animals in their habitats. The U.S.S. Constellation, the only surviving ship from the Civil War, is moored there. The Orioles' Camden Yards—immediately next door to our hotel (and they will be at home that week)—was the model for many rebirthed downtown baseball stadiums. There is so much to see and do.
Because of how expensive hotels generally are in the Northeast, Citygate Network (and other ministries) rarely hold events there; but we got a great deal and took advantage of it, knowing it allows members in the area to possibly bring a few more participants and members outside the area to explore the historic and culturally rich Mid­-Atlantic states.
Here are some other tourist areas that are relatively close (± two hours or less). If you haven't spent a lot of time in this region of the country, consider coming early or extending your stay.
Washington, D.C.
Annapolis and the U.S. Naval Academy
Mount Vernon, Virginia
Bull Run and Civil War battlefields
Lancaster County, Pennsylvania
Philadelphia
The Delmarva Peninsula and Chincoteague
Harper's Ferry, West Virginia
Cape May, New Jersey
Atlantic beaches
---
The Hotel
The beautiful Hilton Baltimore Inner Harbor hotel is now accepting reservations for Citygate Network's Nevermore event. The room rate is $135/night plus tax for a single/double.
The hotel is adjacent to Oriole Park at Camden Yards, five blocks from Baltimore's Inner Harbor area, and surrounded by convenient and high-quality downtown dining. It is connected to Baltimore Convention Center via skywalk, and only a half-mile from Camden MARC Station, linking to the airport.
Conference attendees not staying at the Hilton Baltimore Inner Harbor and those who made their reservations through an online discounter/consolidator may be assessed an $80 or more conference facility usage fee, payable upon check-in at the Citygate Network Registration/Information Desk.