Resources to help people access U.S. tax credits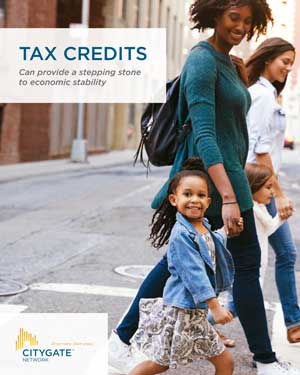 Tax Credit Pamphlet
At least one in five eligible Americans miss out on money from tax credits because they either don't know about them, or they don't know how to claim them. This 12-page publication will help you better understand the Earned Income Tax Credit and the Child Tax Credit through success stories, facts, explanations in plain language, and resources. Read this valuable pamphlet now. Members can also order free copies of this pamphlet while supplies last.
Links to important tax credit resources and information:

The revamped Child Tax Credit (CTC) site launched by the White House provides basic information written at a sixth-grade reading level that explains the 2021 CTC program.
www.childtaxcredit.gov
IRS Child Tax Credit (CTC) Update Portal. Use this tool to:
Check for eligibility and get enrolled for payments.
View/change your bank account and/or mailing address.
View payments.
If you don't have an existing IRS username or ID.me account, have photo identification ready. www.irs.gov/credits-deductions/child-tax-credit-update-portal
IRS Earned Income Tax Credit (EITC) Portal. Use this tool to access:
EITC Qualification Assistant
Find out if you qualify for the EITC
Earned Income and Credit Tables
See how to claim the EITC
www.irs.gov/credits-deductions/individuals/earned-income-tax-credit-eitc
The Volunteer Income Tax Assistance (VITA) connects people to IRS-certified volunteers and offers free tax-filing services to those earning less than $58,000 per year, persons with disabilities, and limited-English speakers. Sites are generally located at community centers, libraries, schools, shopping malls, and other convenient locations all over the country.
www.irs.gov/individuals/free-tax-return-preparation-for-qualifying-taxpayers
Call 211
for answers to simple questions and to connect with local IRS-certified, free tax-filing assistance or virtual help.
Visit GetYourRefund to virtually connect with an IRS-certified volunteer. Be prepared to answer a series of basic questions about your life and finances, with live chat support along the way in case you get stuck. Filers can use a smartphone camera to submit proof of identity and any necessary documents.
www.getyourrefund.org
The AARP Tax-Aide site offers free tax help from an IRS-certified volunteer (for over age 50). www.aarp.org/money/taxes/aarp_taxaide
The Low-Income Taxpayer Clinic (LITC) offers assistance to low-income taxpayers who need help resolving issues with the IRS (including owing back taxes). This resource includes:
An explanation of services available
Clinic-locator services and contact information for each state office
Eligibility qualifications
www.irs.gov/pub/irs-pdf/p4134.pdf
IRS Publication 596 provides information to determine qualification for filing for the EITC. www.irs.gov/publications/p596
The EITC Outreach Toolkit can be adapted to fit a variety of community-service efforts. It contains messaging and media materials, social media and newsletter content, as well as fliers and mailers to help you reach the newly eligible population of working adults.
www.taxoutreach.org/tax-filing/coronavirus/2021-stimulus-checks-and-tax-credit-outreach-resources